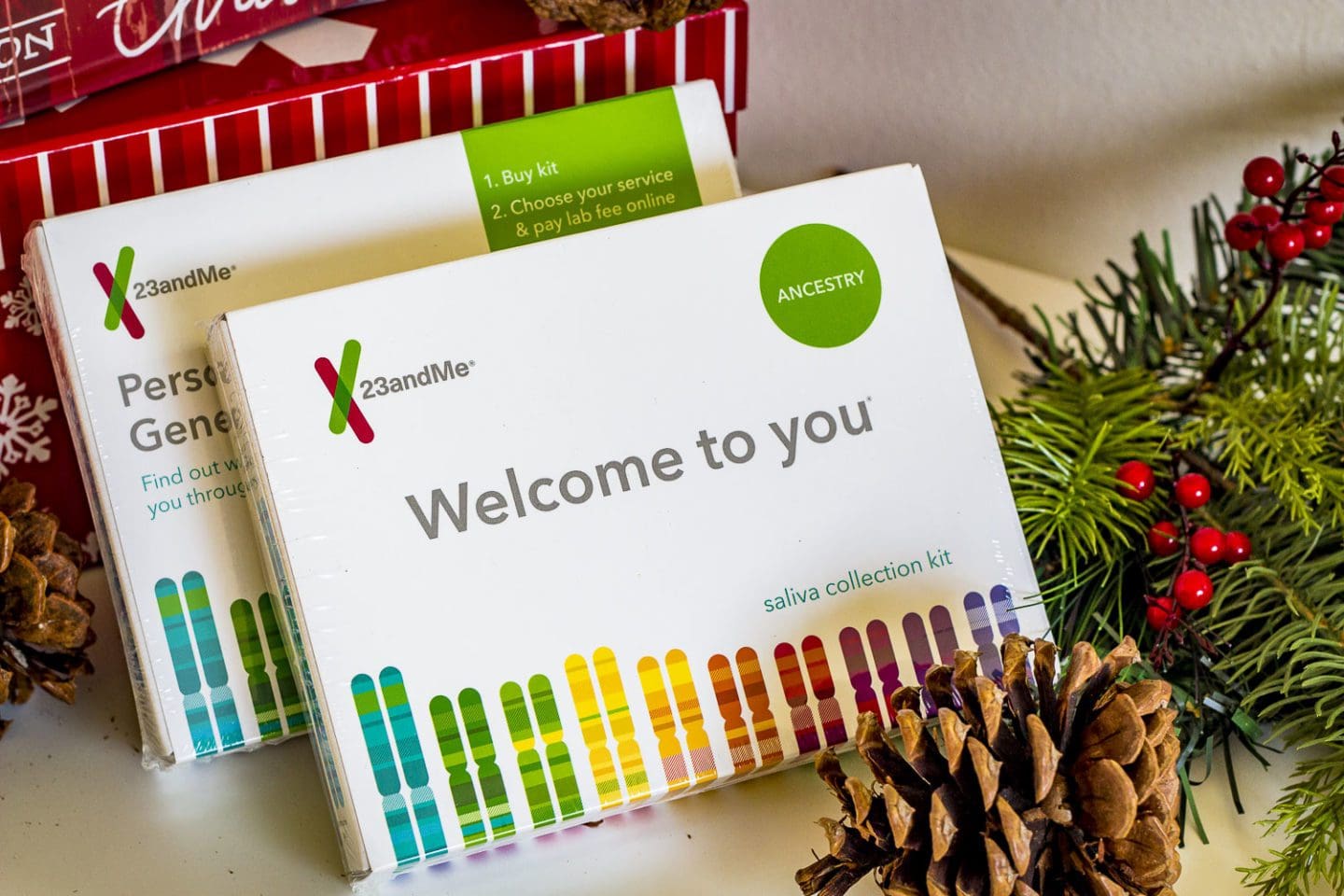 This post is a sponsored collaboration between WorldinFourDays.com and Babbleboxx.com on behalf of 23andMe. All options express are my own. For more information on our sponsored content and/or affiliate link policy, please click here. 
We're huge history buffs in our house. Reese loves anything WW2 related and I enjoy reading about the Great Depression and the civil rights movement. We have been known to travel all over the world just to visit historical landmarks on our bucket list. But with all the history there is to discover the history I value the most is the history of me! Gift Idea Everyone Will Love
Where am I from, where is my family from? These are all questions I've asked and all questions I am about to have answered thanks to 23andMe. I have collaborated with several brands this year but I have to say I was beyond excited when 23andMe contacted me for a collaboration and this is probably my most favorite collaboration to date. Gift Idea Everyone Will Love
While 23andMe offers two services:
Ancestry Service: 5 reports including: Ancestry Composition, Maternal & Paternal Haplogroups, Neanderthal Ancestry, Your DNA Family
Ancestry + Health Service: Provides insights into your genetic ancestry, traits, health and more. We analyze, compile and distill the information extracted from your DNA into 75+ reports you can access online and share with family and friends.
I will be testing out the Ancestry service. Gift Idea Everyone Will Love
When my kit arrived in the mail I was excited to get started. I had watched a ton of videos on youtube about the process so I already knew what to expect. Tube arrives, spit into the tube, put the tube into the box, ship box…and while that is basically the case, trust me when I say STOP and read the instructions! Had I not, I would've really messed this up.
One key thing to know is you are not supposed to eat, drink, smoke or brush your teeth for 30 minutes prior to giving your saliva sample. And since I had just downed my morning coffee when my kit arrived, I had to wait. If you have eaten or drank I suggest taking this time to register your kit online while you wait for the 30 minutes to pass. Gift Idea Everyone Will Love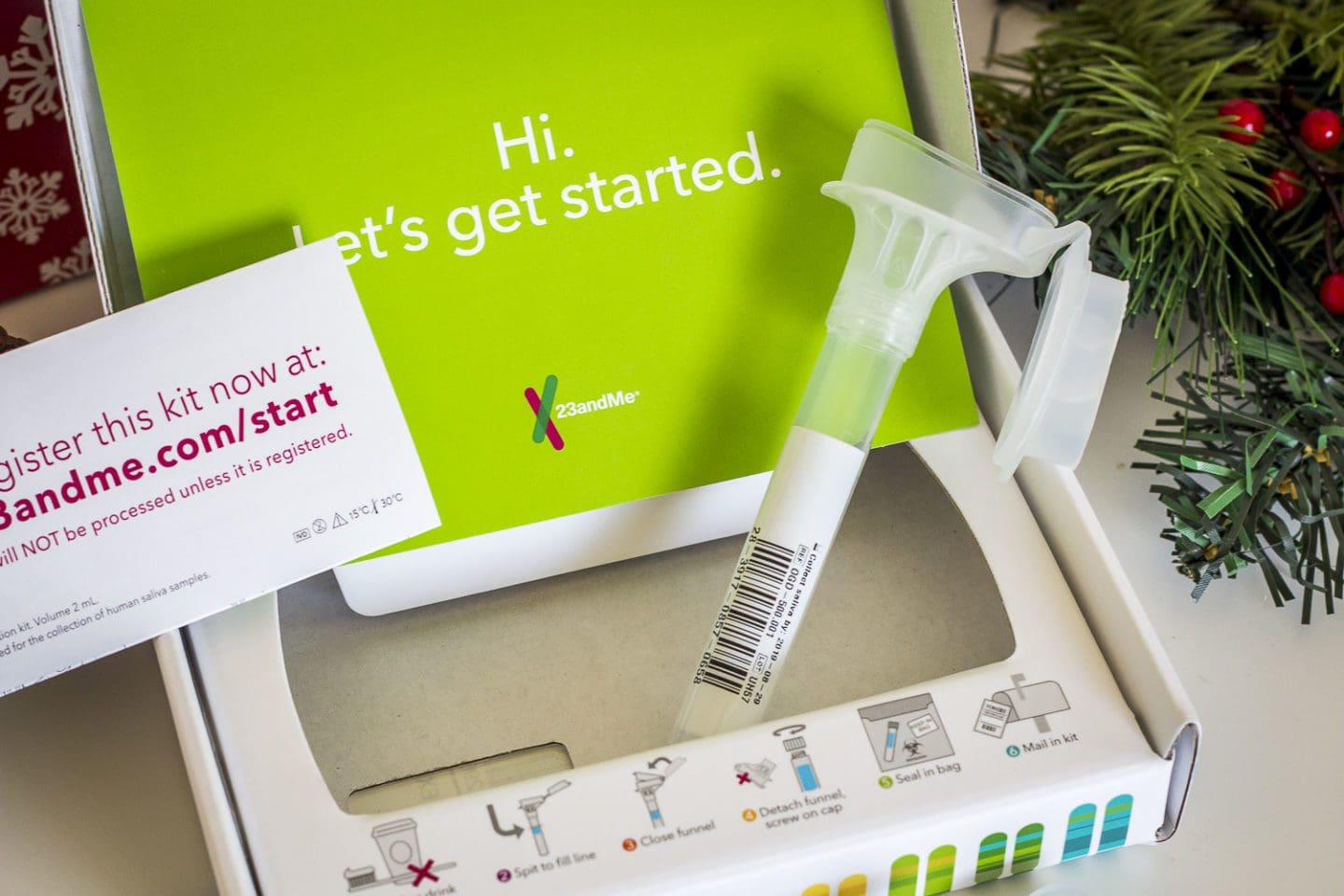 Registering your 23andMe kit is required but really easy and straightforward and goes like this:
Visit 23andMe.com you will need to create an account. Simply enter your email address, name, and date of birth. 
Setup your password and select a security question
You will receive an email confirmation to confirm your account. Simply click the link to validate your account and you will be taken back to 23andMe to complete your registration. 
You will click on each screen answering a few questions, entering your barcode number and reading through the terms and conditions of the service. 
At the very end, you will reach a confirmation screen that will allow you to review all your information prior to submitting as well as confirming your barcode. I printed this screen for my records and wrote the barcode number down on the green "Let's Get Started" card that is included in your kit.
This is the only way for them to track your sample so make sure you write it down hold on to it. Take a photo of it so in case you lose the card you still have the code. 
Towards the end of the registration, there is a hefty terms and conditions section so take the time to read through that. There was nothing in it that I read that made me feel uncomfortable but like anything, read before you sign.
After I submitted my registration I received an emailed the next day requesting that I take a survey to better help 23andMe process my DNA. They asked a series of questions. Things like do I smoke, how many kids do I have, have I ever had any of the medical conditions they named (there was a long list).  Altogether I think they asked about 50 questions.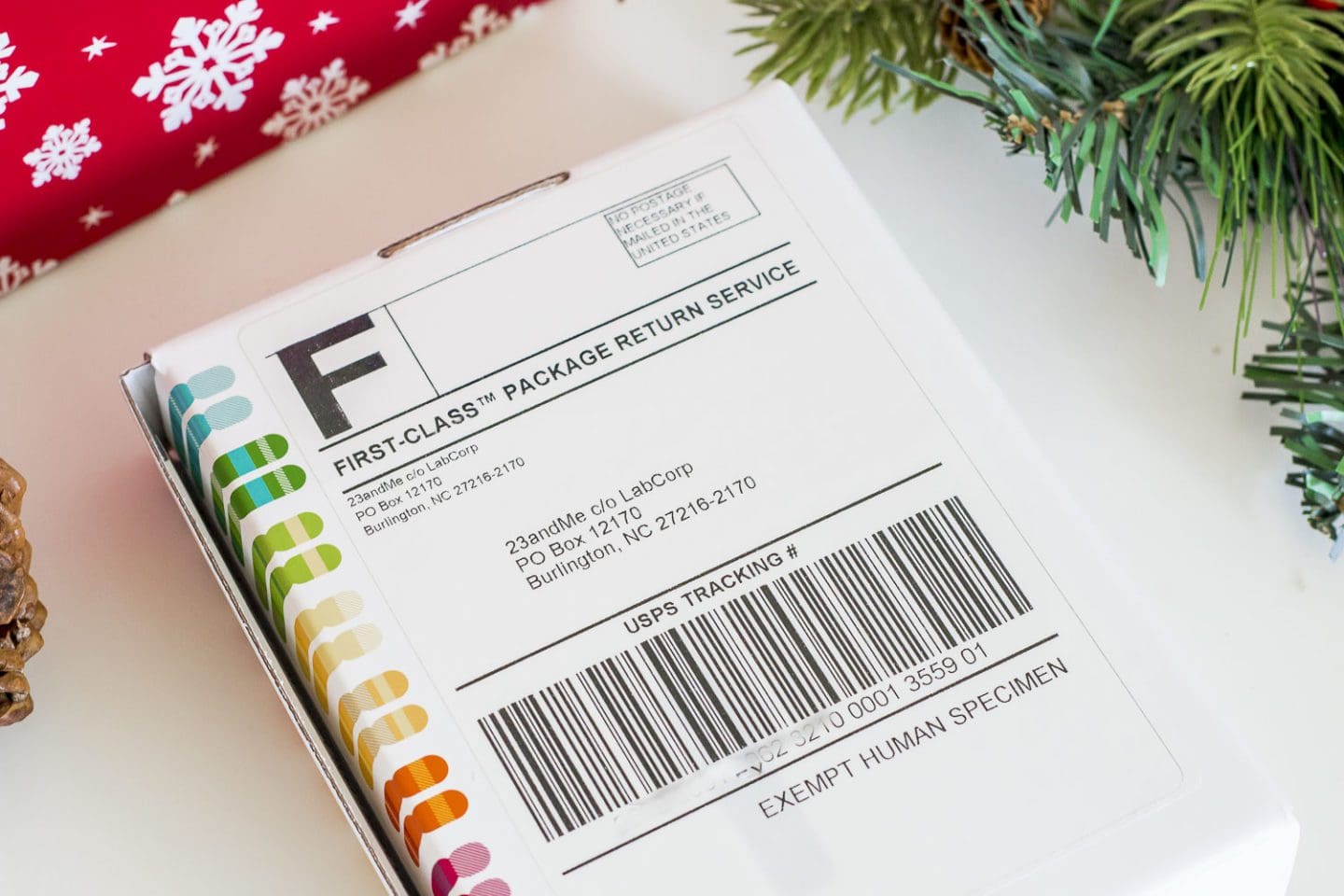 The one thing I loved about the kit is it came with a label and postage pre-paid so that all I had to do was drop it in the mail. Since I pay all my bills online it's rare that I go to the post office anymore so had I had to stand in line and buy postage to mail it off I can tell you right now, it probably would not have happened so thank you 23andMe to catering to us lazy people! lol. Gift Idea Everyone Will Love
I am a big believer in giving experiences over gifts so needless to say 23andMe has moved to the very top of my gift giving list and I purchased 5 additional kits to send to family members. Since everyone's results are different (even identical twins) everyone can use a kit and they are really fun to do together.
Your 23andMe results can help you grow even closer to your family: you can gain a newfound appreciation, lov, and respect for your family after learning more about the genetic connections you share. Gift Idea Everyone Will Love
This holiday, give a gift that's truly personal —the opportunity to learn more about what makes you unique and to form a deeper connection with your family through genetic information. Now through December 26th, receive $50 off the purchase of a 23andMe kit and get free gift wrapping.
It takes about 6-8 weeks to get your results back so I am still waiting on mine but I will for sure come back and reveal my results. As a matter of fact, I will do a Facebook live so you can join in on the excitement with me while you wait for your kit to arrive. Gift Idea Everyone Will Love
Have you done 23andMe? What were your results? Were you shocked?
For more information on 23andMe be sure to visit them on social media:
Website | Facebook | Twitter | Instagram | Hashtag #23andMeGifting